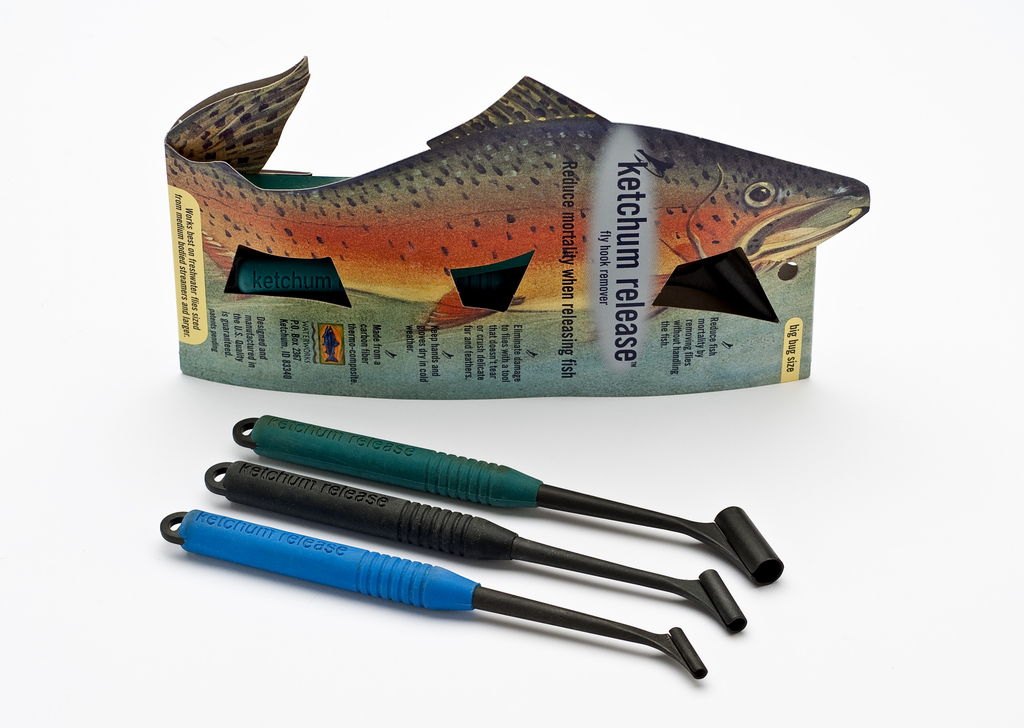 Ketchum Release Tool Standard
Sauveur de poissons. Notre produit révolutionnaire dans l'industrie de la pêche à la mouche, il y a des années, nous pensions :  »Il doit y avoir une meilleure façon de retirer une mouche délicatement attachée d'un poisson accroché que le procédé de levage, de serrage et de déchirement. » Nous avons donc créé un outil tout simplement innovant, capable de réduire la mortalité des poissons en éliminant les filets et les manipulations, et nous l'avons nommé d'après notre base de Ketchum, dans l'Idaho. Cette technique permettra de préserver le mucus et d'éliminer l'exposition à l'air. L'outil Ketchum Release® facilite le décroché à faible mortalité et vous permet de récupérer votre mouche sans dommage. Il vous permet même de garder vos mains en hauteur et au sec. Le Ketchum Release® est disponible en trois tailles : Big Bug pour les tailles d'hameçons 6-10 ; Standard pour les tailles 12-16 ; et Midge pour les tailles 18-22.
Fish saver. Our breakout product in the fly fishing industry, years ago, we thought: "There's got to be a better way to remove a delicately-tied fly from a hooked fish than the hoisting, clamping, and wrenching process now on display." So we created a simply innovative tool capable of reducing fish mortality by eliminating netting and handling—then named it after our home-base of Ketchum, Idaho. This technique will preserve protective coatings and eliminate air exposure. The Ketchum Release® tool makes low-mortality release easy, plus allows you to retrieve your fly without damage. It even keeps your hands high and dry. The Ketchum Release® is available in three sizes: Big Bug for hook sizes 6-10; Standard for sizes 12-16; and Midge for sizes 18-22.